3-Day Yoga Retreat & Nature Experience
If you are vacationing in Costa Rica with limited time this is a perfect way to start or end your vacation. We guarantee you will leave feeling refreshed and relaxed.
This package includes:
2 Yoga classes combined with meditation
3 meals per day while on the property: From the Farm to the Table Organic delicious Plant-Based foods with plenty of fresh fruits & veggies.
One-hour massage in our Spectacular Aromathic SPA Center with Gorgeous Views
2 Nights Lodging in our Villas (First Come First Serve Basis)
Half Day Tour: The Amphibian World Tour or The Mandala Garden and Noah's Arch Tour when available.
La Fortuna Waterfall Visit entrance is provided and it is within walking distance from your villa
Note: We will be delighted to accommodate dietary needs and make adjustments to the package to add more days or content if you would like.
Full Itinerary:
Day 1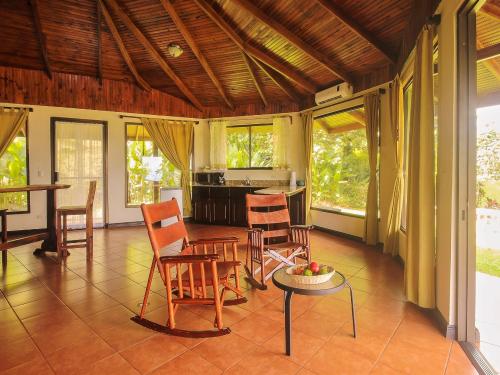 Arrival. Guests are greeted with a fresh juice smoothie and have time to settle into their private Villas and explore the property. At 7:00, come to the dining room to enjoy a delicious, healthy family-style dinner cooked by our local plant-based nutrition chefs. Tour to Amphibian World place.
Day 2
Relaxation. First, enjoy a morning yoga & Medtition class in our New Yoga Studio & Garden's inspiring new area's unmatched views in La Fortuna,  overlooking the forest and Northern Plains as well as the volcanoes, followed by a healthy breakfast on the Fountain of Juice Restaurant overlooking the valley below and the Amphibian World Farm. Later, take a refreshing swim in the pool and get back to nature by hiking to the Mandala Garden & Noah's Arch. Next, we provide a light lunch before your personalized 1-hour massage.

Dinner ast 6:00 pm
Day 3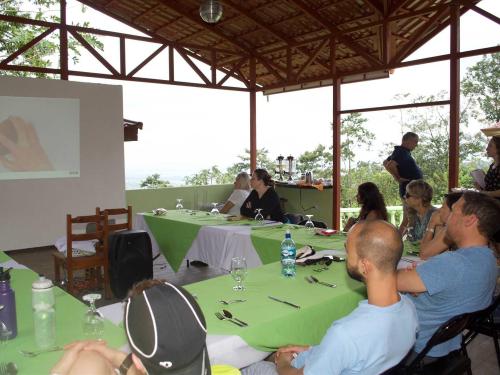 Adventure. Wake up early and come to the dining room for breakfast. Next, Yoga & Meditatioin Class follow by a visit to La Fortuna Waterfall, where you are given a entrance ticket, and make time to visit the souvenir shopping.. After your waterfall visit, have a delicious lunch, before your check out time and departure

Come back to GreenLagoon for sunset meditation, Bird Watching, Water Tour or just to relax in your Villa

Airport transfers available but not included in this package
To inquire about your reservations now, please click in the button below

 Package begins with dinner on arrival day and ends with lunch on departure day. Additional meals can be requested at an additional cost.
Price: 

- Per person, double occupancy: $480
- Single occupancy: $605 and Extra Person in Double Room $425

All hotel taxes included (13%). Rates good through Jan 03 2018.